It's been a rewarding and educational 20 years in the Showpig Business. We have met many great families, breeders, and lifelong friends over the years. We greatly appreciate all of our customers over the years. Thank You to Val, Dakota, and Garrett Reiss of Reiss Livestock for purchasing some of our sows!
Boars: We've been A.I.'ing for 20 years now. The past several years, we have felt confident in our herd boars and their ability to produce competitive showpigs. In addition to our herd boars, we use semen from some of the top Boar Studs like Hi Point and Lean Value Sires. We also use semen from individual breeders like our good friends Val, Dakota, and Garrett Reiss.

Herd Boars:

**New Sire for 2016 Showpig Crop: Introducing "Happy" (It's All Good x Motorboater) from Hi Point Genetics
He is something a little different than what we've been using! He will add some bone, width, and stoutness!!!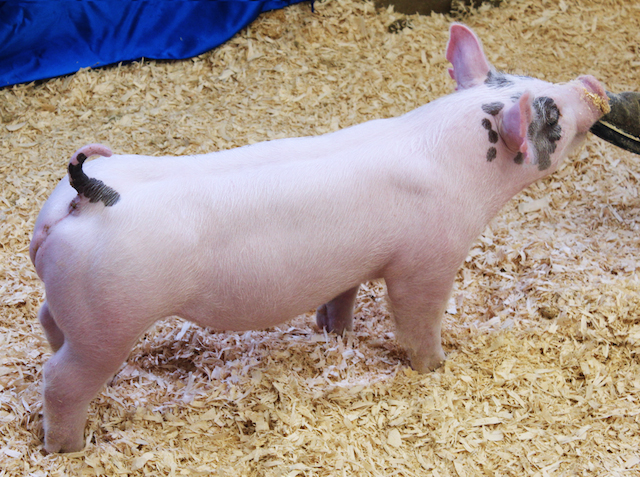 Thank You Carl Kent & Sons for letting us purchase "Lonestar Hillbilly" (Hillbilly Bone x Monster) to use in our program! Pictured at 3 years old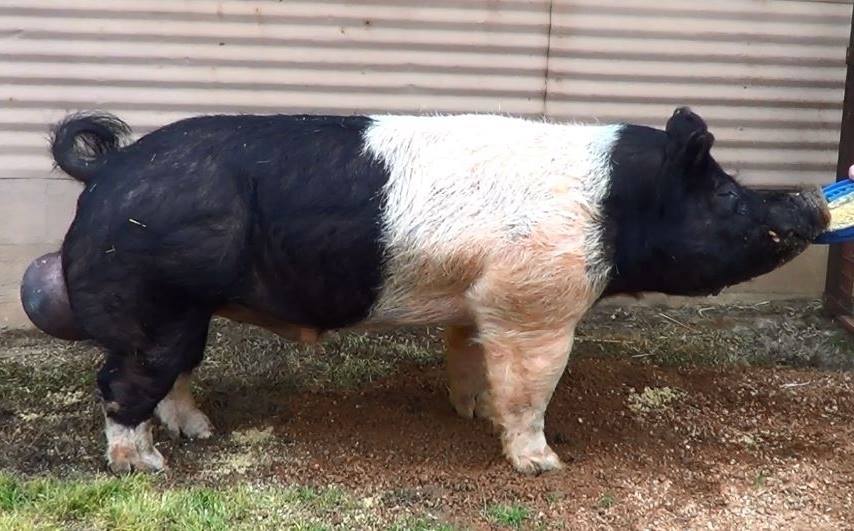 "Ya Did" = Ya Know x Recovery 22-2 from Shane Brinning. Moderate, balanced, cool look, with tremendous shape!

Picture of Recovery 22-2 sow (Ya Did's Mom)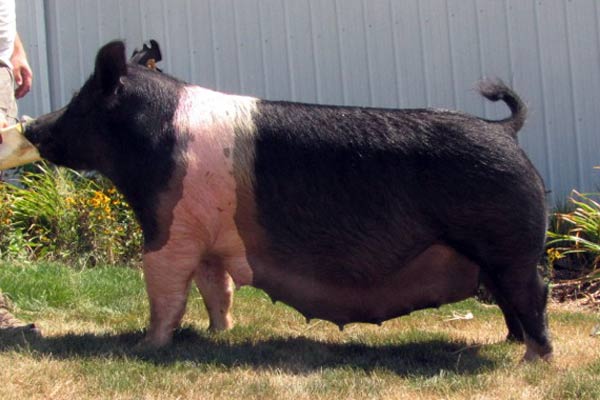 Reference Sire: "ROOSTER" = Catalyst x Powerhouse from Bakker Bros. Genetics. This calico colored stud stood 2nd in class at the 2012 National Barrow Show. I call him complete...not massive in any one area, but sound, wide, good rib shape, good muscle and bone, with a cocky look!!!
(Picture of Catalyst below)






REFERENCE SIRE: "Cletus" = Batman x Super 7 from RW Genetics. A really complete, sound, stout boar with excellent genetics behind him. His mom, 6-1, has been a real generator for Rick. She has produced boars like "Super Natural" at A Cut Above, "Skywalker" at PSSS, and "Super Nova" at PSSS. He really generates width, bone, soundness, and balance! "Cletus" is a littermate to "The Joker" (pictured below) at Shaffer's Gold Rush.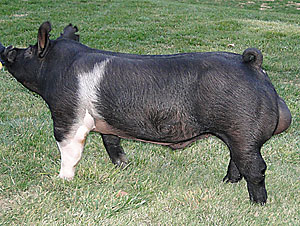 Reference Sire: "BO" Purebred Yorkshire (Private Drive x Final Move x Bulletproof) from Bobell Farms.

This sow recently raised the Division 1 Champion Barrow at the 2014 SE Regional shown by Savanah
Page. She is also the mother of the 2014 Grand Champion Overall Gilt at the Houston Livestock Show
shown by Katelyn Johnson.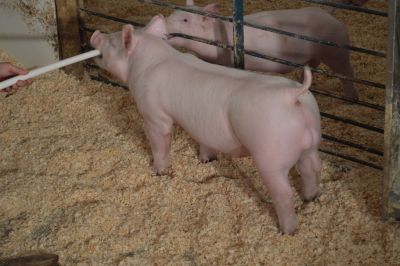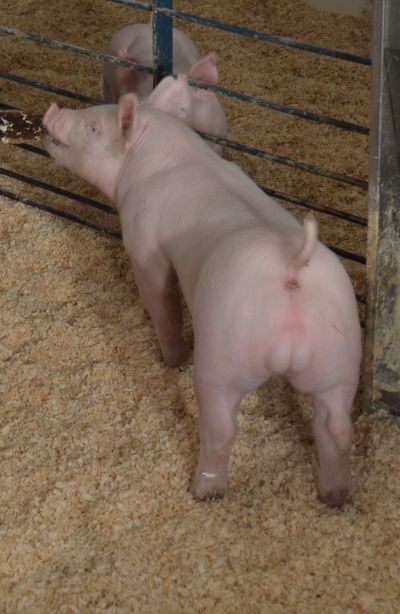 Sows:

Danni (Ultimate Force x Alias 19-2) Res. Grand Mkt. Hog 10' SWKLC
-
Spotlight (Capone x Daddy Mack) - Grand Breeding Gilt at 2012 Greeley Co. Fair!
- Sold to Reiss Livestock
Pipsqueak (Cletus x Doc Holiday x Solid Gold) - Light Cross Class Winner
-
Ms. Pretty (Ya Did x Capone) - Grand Market & Breeding at 2014 Stanton Co. Fair
- Sold to Reiss Livestock
Pepper (Ya Did x Ultimate Force)
- Sold to Reiss Livestock
Blackie (Rooster x Cletus)

York (Gas Chamber x Starbuck x Wow x Vintage) from Carl Kent
- Sold to Reiss Livestock
Cross (Bear Claw x Full Strut) from Brinning Genetics
- Sold to Reiss Livestock
Penny (Cash (Fortune x Stick This) x Ya Did)
- Grand Champion Market Hog 2015 SWKLC
Freida (Cash (Fortune x Stick This) x Ya Did)
Cross (Ya Did x Ultimate Force) full sib to "Pepper"
Calico (Cash (Fortune x Stick This) x Ya Did x Capone)